This is the basic idea of what I want to do in my hallway.
Wow, right? I know. Beautiful!  SO EXCITED!
I am playing with the idea of creating some kind of pattern above the black in the white space or a pattern in both areas of color but the colors would be opposite above and below the chair rail line(black lines on white and white lines on black).  I would create the pattern with Sharpie Paint Pens ala Mandi's Sharpie Wallpaper.  That might be too busy, though, since I love the simpleness of the black and white…
All of the trim in my house is wood with a clear satin finish and my doors are hollow core.  I want to paint my doors black, but feel like I would have to paint my trim white or black, and I don't want to.  I'm really loving black doors.  Would it really look horrible if I left it wood? Should I paint them half white and half black like this?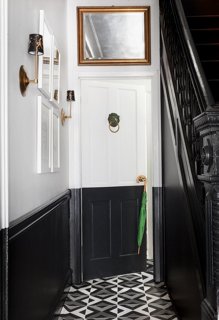 Maybe add some trim to the doors ala Little Green Notebook?  Doors could be all black or black with white trim or white with black trim? Or add nail head trim to the doors?
This will go at the end of the hallway with a big mirror hung over it.  Which is why I want to paint it white, because it will stand out against the black "wainscoting".  The frame of the mirror will be a fun dark purple or flourescent pink.
The light fixture will be something special, too.  I'm thinking a sputnik flush mount like this painted gold or antique brass
or this.

So, yeah, lots of inspiration and details to hammer out as I go..first up..paint.  I am planning on using Clark and Kensington Designer White and Glidden Onyx Black, but I've been tossing around the idea of using Sherwin Williams Paint.   Mandi from Vintage Revivals has them mix up a special formula of Ultra White Base with 4 ounces of White pigment for coverage, like she did for Macie's Room.  I better decide because I'm getting paint this weekend.
What do ya think?  Am I crazy?  Crazy genius?  Are you loving the graphicness(is that a word? Spellcheck says it isn't)of the black and white?  It'll be a lot of work and I should finish my bedroom first, but that's another post.